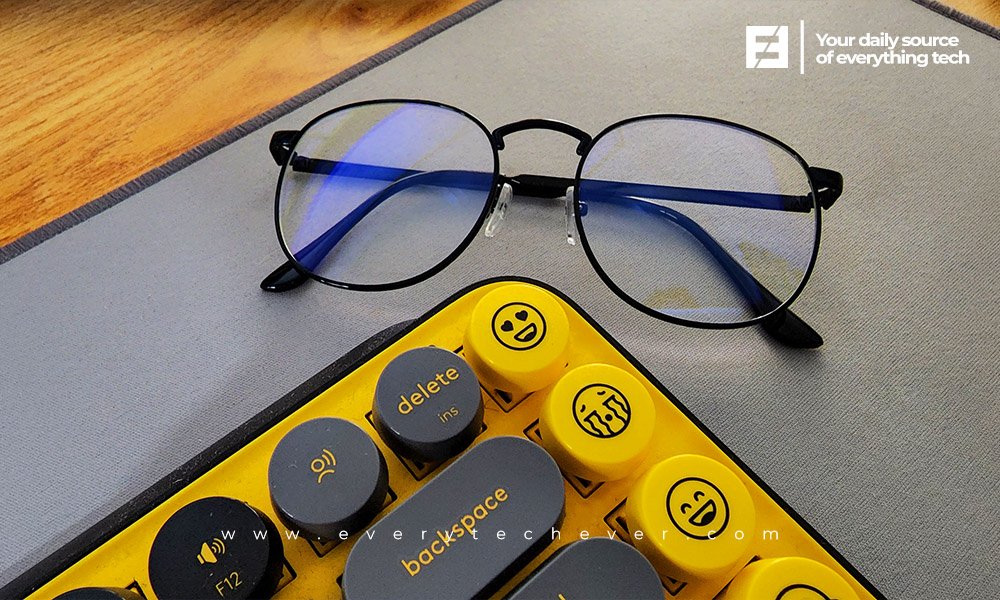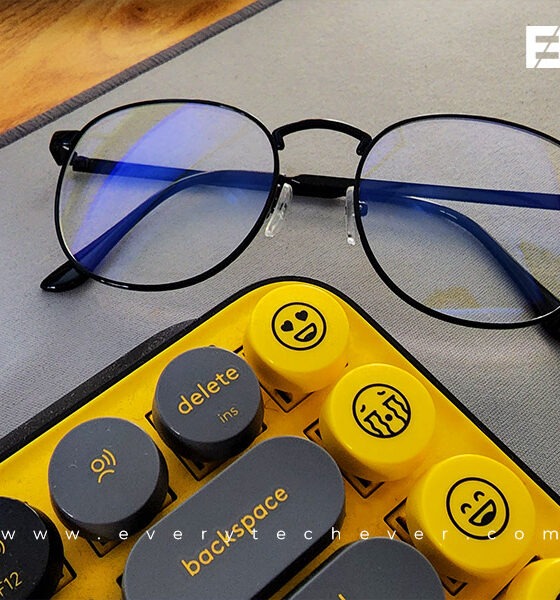 Peculiar Eyewear HUGO Anti-radiation Eyewear Review
Keep your eyes protected with trendy specs from Peculiar Eyewear for as low as Php 189 only at Shopee's 6.6 Mid-Year Sale!
If you spend all day in front of a computer, your eyes may become tired, dry, or itchy. Gazing at a screen for long periods of time can harm your eyes. You might be concerned that you're forever damaging your eyes, or you might be unsure how to cope with the discomfort. If your task requires extensive computer use, you may notice eye issues. A study suggests at least 50% of those who spend time in front of a computer suffer from eye issues.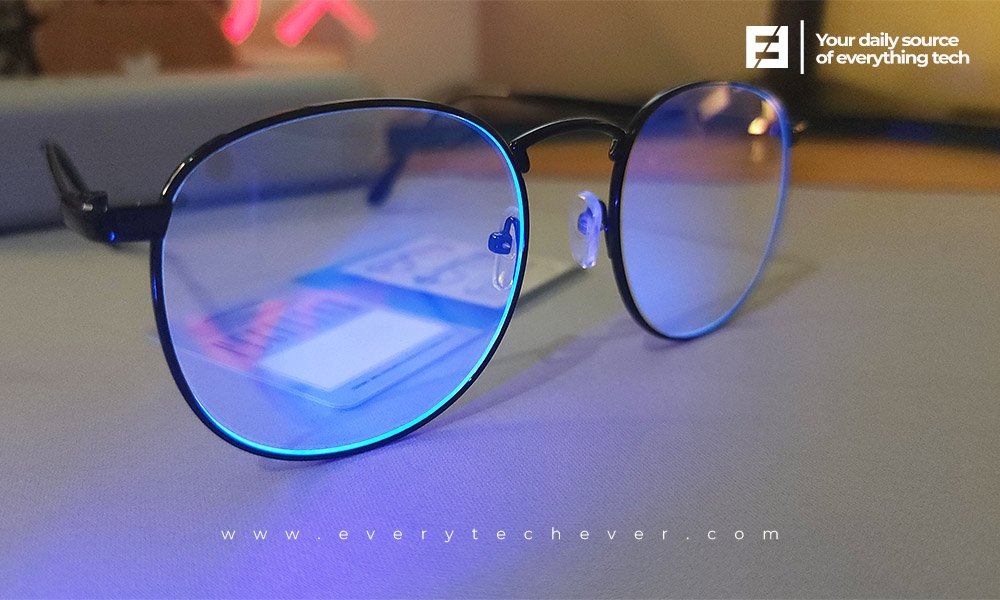 Blue light affects eyesight
Digital eye strain can be caused by blue light from computer screens and other digital gadgets, which reduces contrast. Eye strain might be caused by fatigue, dry eyes, poor lighting, or how you sit in front of the computer. Sore or irritated eyes, as well as difficulties focusing, are signs of eyestrain.
According to research, long-term exposure to blue light may cause retinal cell damage.
As a content creator, I've been doing my stuff every day in front of my computer and smartphone. And this led me to develop dry eye syndrome and frequent migraines. As little as I know, the lack of anti-radiation computer eyewear contributes a lot to this aspect.
Get protected with UV400 Protection and BlueLight Blocking Technology certification
I tried a number of methods to address my persistent eye irritation, including eye drops and eye creams that are wholly pricey and consumable. Then I found Peculiar Eyewear's HUGO Anti-Radiation Glasses on Shopee and it revolutionized my everyday grind.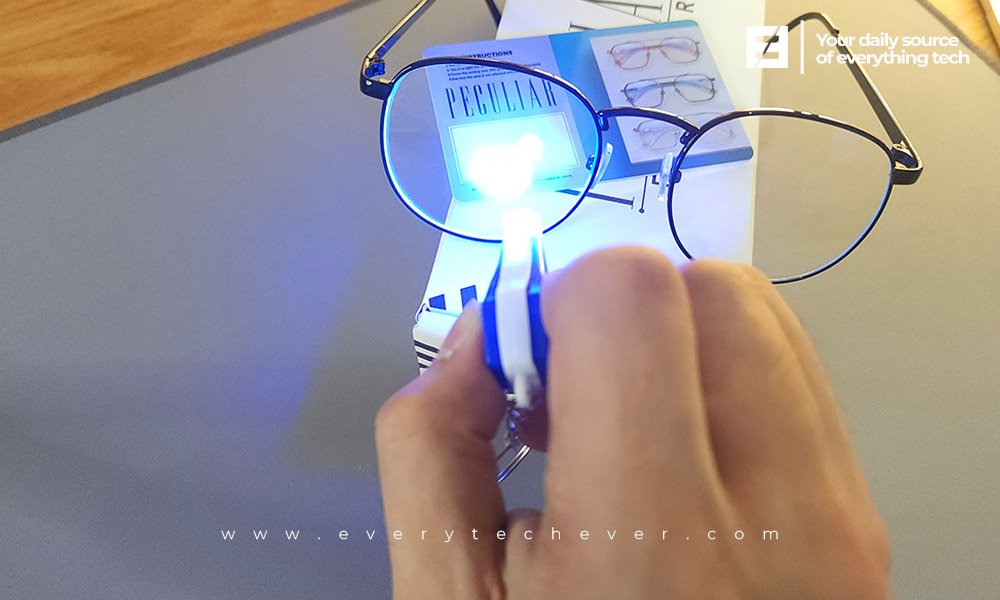 I've started using Peculiar Eyewear HUGO Anti-Radiation Glasses for about two weeks now, and they work so well. I usually sit in front of my laptop and a big monitor for about 12 hours, excluding my mobile phone usage. And I am satisfied with the comfort these glasses have given me. The glasses literally block our devices from emitting blue light. Hence, it protects our eyes from extended periods of gadget use. 
Here are some of the features :
Anti-radiation SafeShield UV400
BlueShield for protection against harmful Blue Light
Color Changing Lens for 3x protection – allows you to switch from clear to dark in seconds
For prolonged screen time, I highly recommend Peculiar Eyewear HUGO Anti-Radiation Glasses. It is endorsed by a number of influencers, bloggers, and celebrities, including Carla Abellana. It's also been named the most popular and reliable computer eyewear at the Southeast Asia International Awards.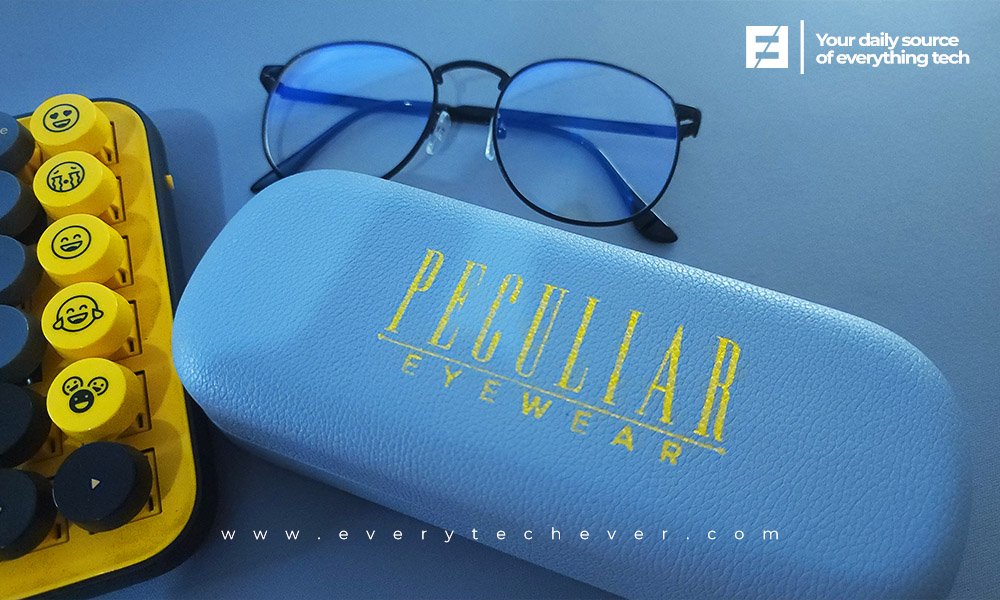 Get it only from Shopee
I purchase all of my eye and eye care products exclusively from Shopee. Only Shopee makes online buying a more sulit and rewarding experience. The Peculiar Eyewear's HUGO Anti-Radiation Glasses are truly perfect for students, work-from-home professionals, content creators, and gamers!
So what are you waiting for? Get Peculiar Eyewear's trendy specs for as low as Php 189 on Shopee's 6.6 Mid-Year Sale!
Follow EveryTechEver, on Facebook, Twitter, Instagram, and Pinterest for more online shopping tips.

Get up to 56% off on OPPO Gadgets in the 8.8 Mega Flash Sale
From August 8 to 12, grab exciting freebies, vouchers, deals on Shopee and Lazada.
Heads up, shoppers! OPPO will offer incredible discounts with awesome freebies, vouchers, and deals during the OPPO 8.8 Mega Flash Sale on Shopee and Lazada.
From August 8 to 12, visit and shop on OPPO's Official Stores to enjoy up to 56% off on OPPO gadgets. You can collect a Php 200 off voucher if you reach a minimum spend of Php 9,999 and a Php 400 off for every minimum purchase of Php 14,999.
Don't miss the chance to use your Php 50 and Php 55 shipping discount vouchers before checking out if you have a minimum spend of Php 500 on Shopee and Lazada, respectively.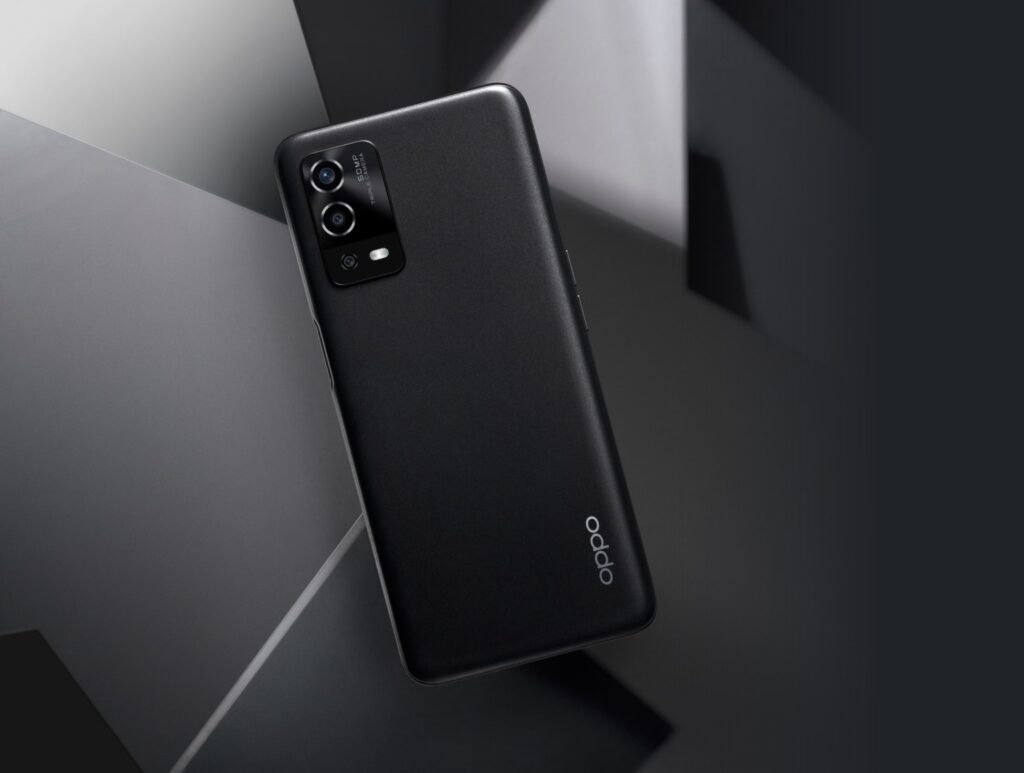 For Lazada shoppers, you can also get a Php 50 off voucher for every minimum purchase of Php 500, including a 10% cashback on your orders.
Freebies to watch out for on 8.8
If you plan to shop from 12 pm to 2 pm on August 8, take advantage of free G25 Bluetooth earphones for each smartphone order ID. Later in the day, you also can enjoy a free A8 long speaker if you order the OPPO A55 from 9 pm to 11:59 pm.
A wide array of freebies are also in store for you throughout the sale. That includes a free 32GB SD Card when you order OPPO A16 3GB, a free TG113 Bluetooth speaker for every purchase of OPPO A55, a free Neon Island desk pad for all your OPPO Reno6 Series purchases, and a free A8 long speaker with Neon Island desk pad for every OPPO Reno7 Series orders.
Flash deals, and giveaways on OPPO's 8.8 TikTok Livestream
There's more to look forward to on 8.8 when you check out OPPO Philippines on TikTok. Be sure to watch out for limited flash deals and giveaways during OPPO's 8.8 TikTok Livestream on the following dates: August 7 from 2 pm to 9 pm; August 8 from 11 am to 9 pm; August 9 from 11 am to 7 pm, and August 10 from 11 am to 7 pm.
Bundle deals on Shopee, Lazada
Exciting bundle deals are also available from August 8 to 12, such as OPPO Band and OPPO Enco Buds for Php 1,999; OPPO A55 and OPPO Enco Buds for Php 9,499; OPPO A94 and OPPO Enco Buds for Php 11,999; OPPO Reno5 and OPPO Enco Buds for Php 15,999; and OPPO Reno5 5G and OPPO Enco Buds for Php 19,999.
Mark your calendars now! Don't miss the chance to enjoy OPPO 8.8 Mega Flash Sale spectacular treats to welcome August on Shopee and Lazada, even on TikTok. Add to the cart and check out your favorite OPPO devices at great deals so you can finally take home the gadgets you have been saving up for!
Vivo announces 8.8 Mega Sale in Shopee, Lazada and TikTok Shop
Enjoy exclusive vouchers and freebies!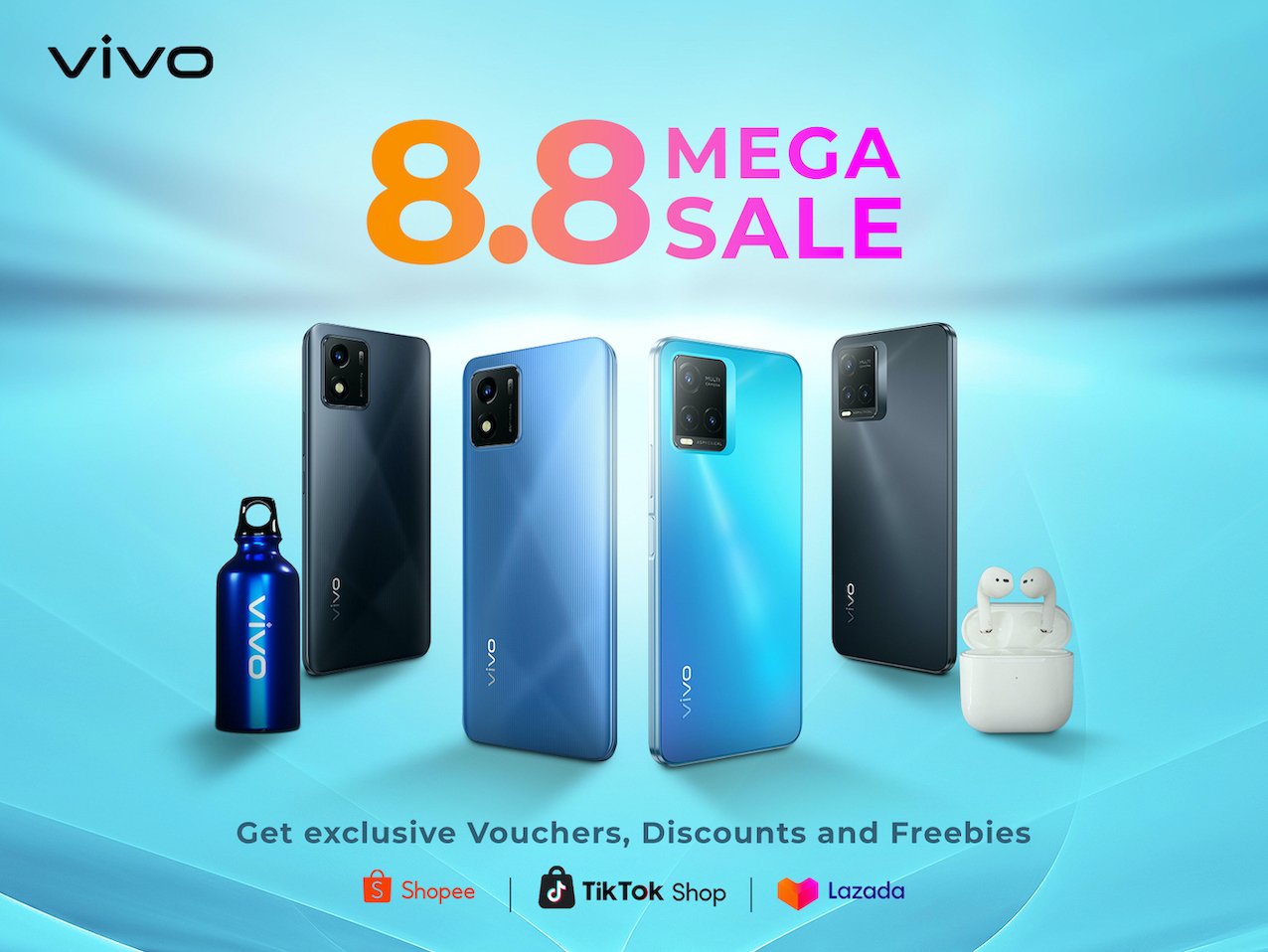 Vivo brings a surefire way to satisfy shoppers in this 8.8 Mega Sale! You can avail of vivo T1x, vivo Y1s, or vivo Y01 with vouchers, and exclusive freebies on Shopee, Lazada, and TikTok Shop.
The vivo T1x, with an original price of PHP 8,999, will be available at a reduced price of PHP 8,897 with a P100 off voucher, FREE DITO SIMCARD, and FREE TWS Voguard. Designed for gamers, the vivo T1x comes with a high-performing Snapdragon 680 processor, 4GB RAM (1GB RAM Extended) + 64GB ROM, 5000mAh battery with 18W fast charging capability, Multi-Turbo 5.0 that helps you run your favorite mobile gaming apps smoothly. It also comes with a 50MP camera that can capture life's best moments effortlessly and get pristine clarity whether you zoom in or crop photos. The vivo T1x also supports unique and high-quality camera features like Bokeh Camera, Super Macro Camera, 8MP Super Night Selfie, and Personalized Portrait Mode. It has a beautiful 6.58" FHD+ Incell screen display and anti-fingerprint design with unique colorways in Gravity Black and Space Blue.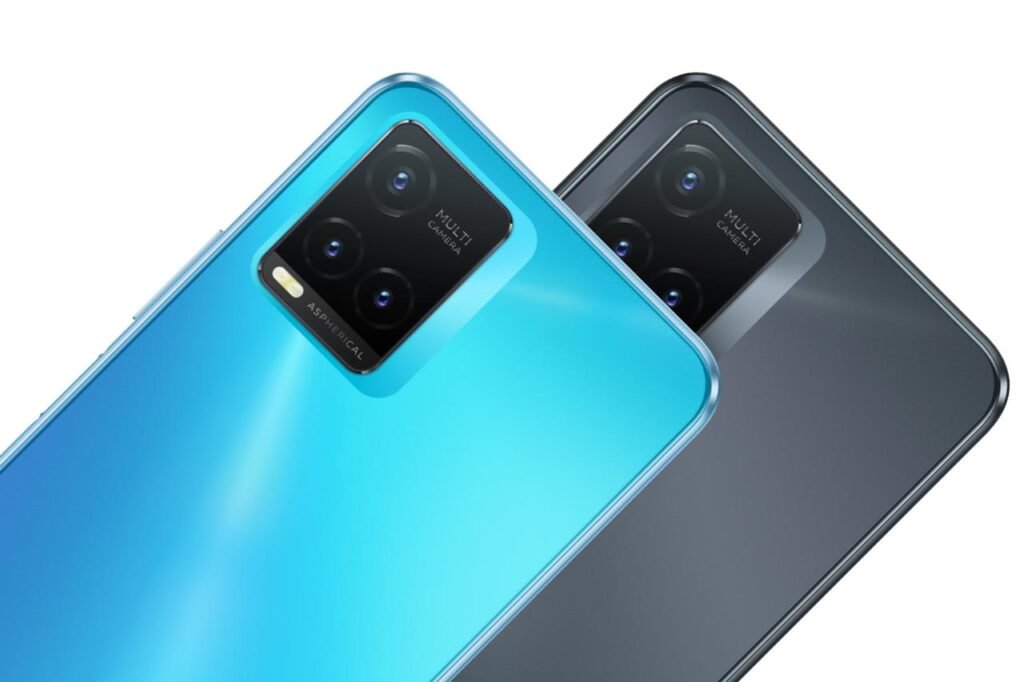 Shoppers can also get the vivo Y01 for a fun deal. From PHP 5,299, it will be available for PHP 5,247 with P50 off voucher, FREE DITO SIMCARD, and FREE Premium Tumbler. The vivo Y01 is a great all-rounder device. It is an entry-level smartphone but packs advanced features like a 6.51-inch HD+ display for an immersive viewing experience, an 8MP rear camera for everyday shooting, and a 5 MP selfie camera on a small notch. It also has a 5000mAh battery that enables longer playtime and is also capable of reverse charging. The vivo Y01 can also run mobile games without lags because of its Multi-Turbo 3.0. This smartphone comes in a 3D slim design and is available in Elegant Black and Sapphire Blue.
For those who are looking for a more affordable smartphone, the vivo Y1s is another good option to consider. From PHP 5,499, it will be available for PHP 4,847 with P50 off voucher and FREE DITO SIMCARD. The vivo Y1s features a 6.22-inch Halo FullView™ display, providing a pleasant view for both videos and games. Plus, it can filter out harmful blue light to prevent eye strain. With elegant 3D body curves, the vivo Y1s fits perfectly in the palm for a comfortable grip. Its 32GB of internal ROM gives ample freedom to store more photos, files, and applications. It can also expand to up to 256GB with an additional SD card. And at a 4,030mAh battery, supported by exclusive smart power management, keeps it going longer for a more enjoyable gaming and video experience. It comes with a 13MP Main Camera and a 5 MP Front Camera with smart beauty features. The vivo Y1s will be available in limited quantity so add to cart now!
Other than T1x, Y01 and Y1s, vivo 8.8 Mega Sale also offers amazing freebies on other select Y Series, T Series, V Series, and X Series models and accessories. Check out these special deals on Shopee and Lazada:
AirAsia Super App supports the return of historic Bohol Sandugo Festival
The return of Sandugo signals that we are on the right track to recovery and Boholanos.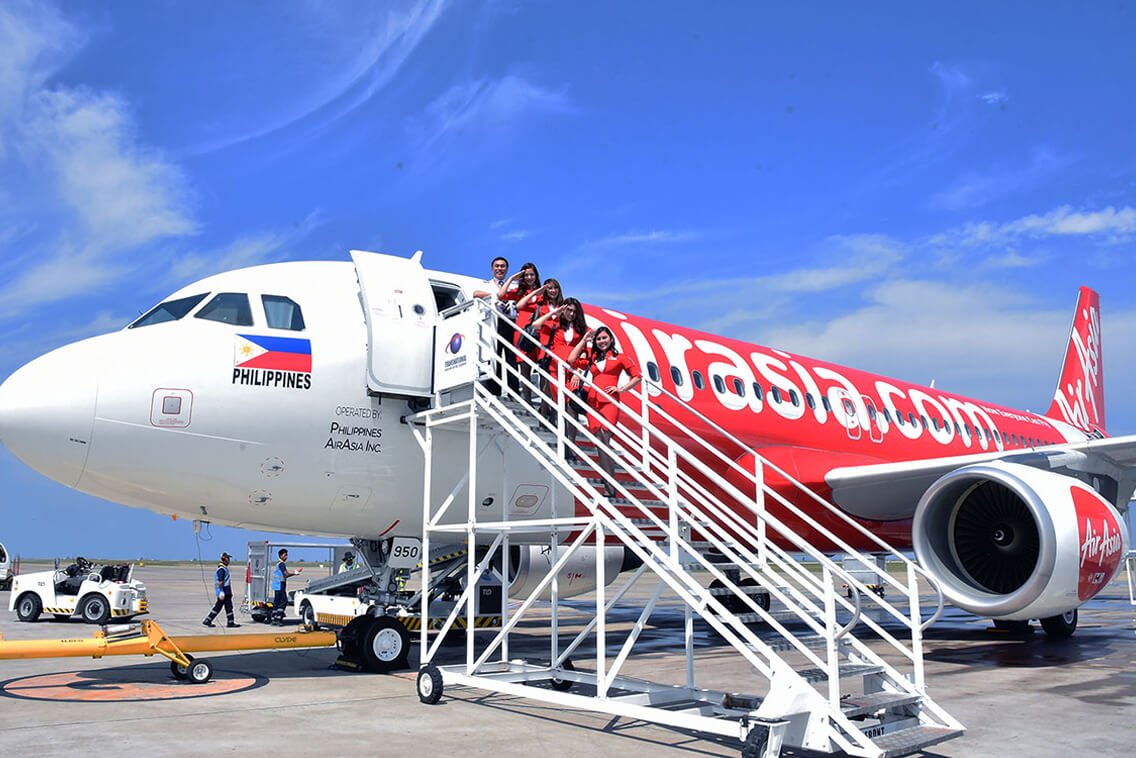 In a strong bid to promote tourism and culture, airasia Super App and AirAsia Philippines today co-organized the airasia Fiesta Concert and Bohol Sandugo night market, packed with exciting activities, programs, and promos for Boholanos.
After two years of putting celebrations and some traditions on hold because of the COVID-19 pandemic, the local government of Bohol brings back its face-to-face Sandugo Festival on the streets.
Although street dancing has been postponed for this year, other exciting tourism activities such as the tourism expo, quiz bee, Miss Bohol 2022, and jobs fair pushed through.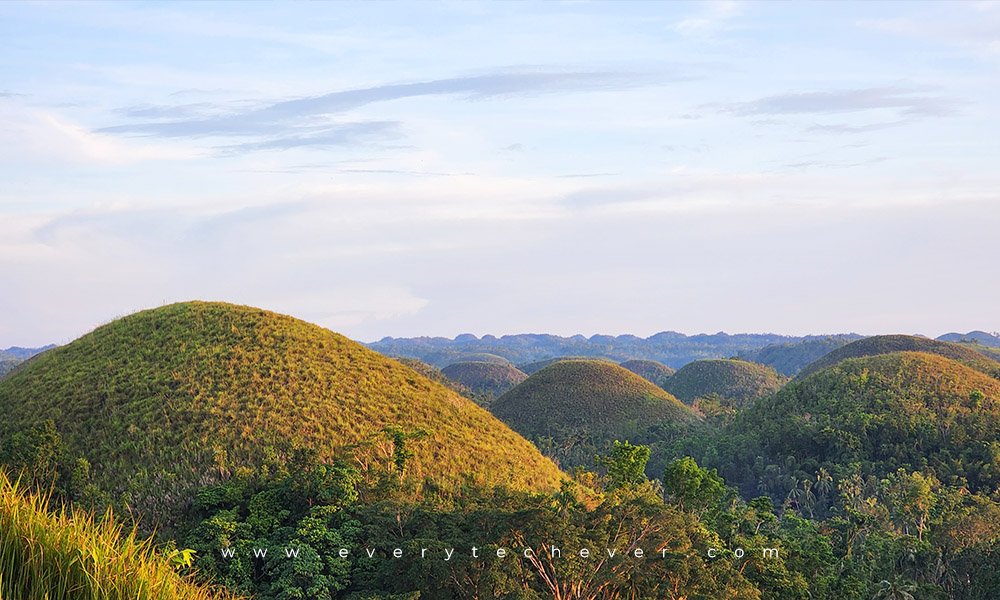 To celebrate Sandugo Festival, airasia Super App Philippines is giving away huge discounts on hotel and flight bookings for as low as 1,200 pesos from Manila to Tagbilaran. airasia Super App users can also enjoy up to a 20% discount on Travelmall purchases using the promo code TMSUPER20. Apart from discounts, airasia Super App is raffling off free accommodations to Solea Coast, Bohol Shores, Twin Tides, and Ocean Suites to Sandugo participants.
Ray Berja, Managing Director of airasia Super App Philippines said: "Sandugo holds so much significance to all of our Boholano friends and family here, but this year makes it more meaningful as we return to the streets and regain the merriment of celebrating face to face. The return of Sandugo signals that we are on the right track to recovery and Boholanos can be assured of airasia Super App's continued support in stirring travel demand as we also provide opportunities for micro small medium enterprises in the province.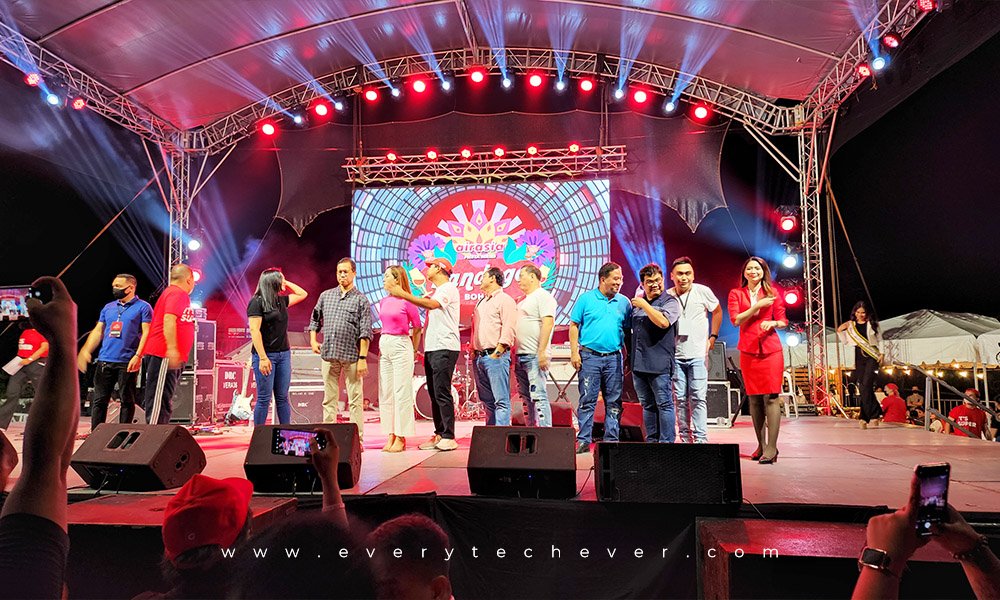 airasia Super App treated Boholanos to the Night Market at the Old Tagbilaran Airport featuring the best finds and delicacies. Aside from this, airasia Super App users were entertained by one of the best Filipino OPM bands, Spongecola, local performances, Allstars, and DJs at the airasia Fiesta concert.
Watch out for more exciting promotions as other lines of business under the airasia Super App such as food delivery, ride-hailing, and more roll out in the months to come.
Download the airasia Super App via Apple App Store or Google Play Store now.
For updates, follow the on Facebook and Instagram.
With airasia Super App, Filipinos can now travel and shop more, for less.