Playing music across different devices has significantly evolved over time. There had been the age of cassette tapes, compact disks, and downloadable mp3s. Now today, this is the age of digital music and online music streaming.
For starters, Spotify is an online music streaming service. Launched in 2006 in Sweden, It is now arguably the most popular streaming service in the world. It may be used on Web, PC App, or mobile app that can be downloaded through Google Playstore and Apple AppStore. The service can start for free but expect ad placements all over. They offer premium account upgrades to basically get rid of them plus more added features that will surely complement your listening experience.
Being Premium on Spotify was the best decision I made way back in 2017. I pay their individual package monthly and get to do everything a streaming service could offer, Hence their tagline: "Only Premium lets you do everything!"
Things you can actually do on Spotify Premium:
1. Ad-free listening
This is the basic thing they offer on Premium, you pay for a subscription to remove those annoying ads. But hey, the listening experience is really better without them.
2. Play any music, anytime, every time
One of the drawbacks of a Free Spotify is you can't really select specific songs for playback. Rather, you can only select an album or playlist, then play on shuffle. There are also limited times you may skip songs. On Spotify Premium, everything will be limitless. You can choose any music to play now, play next, and even set it anywhere on your song queue. This also includes being granted unlimited skips.
3. Listen offline
Here's one very useful experience on Premium. You can always listen to your favorite songs everywhere as Premium allows you to download albums and playlists so you can listen to them even without an internet connection.
4. High Quality Music
On Premium, everything can sound even better. You now have the option to set sound quality to Very High, which is equivalent to 320kbit/s. Spotify free can only let you listen up to 160kbits/s. Hear the difference and give your ears a treat.
5. Better Year-End treat.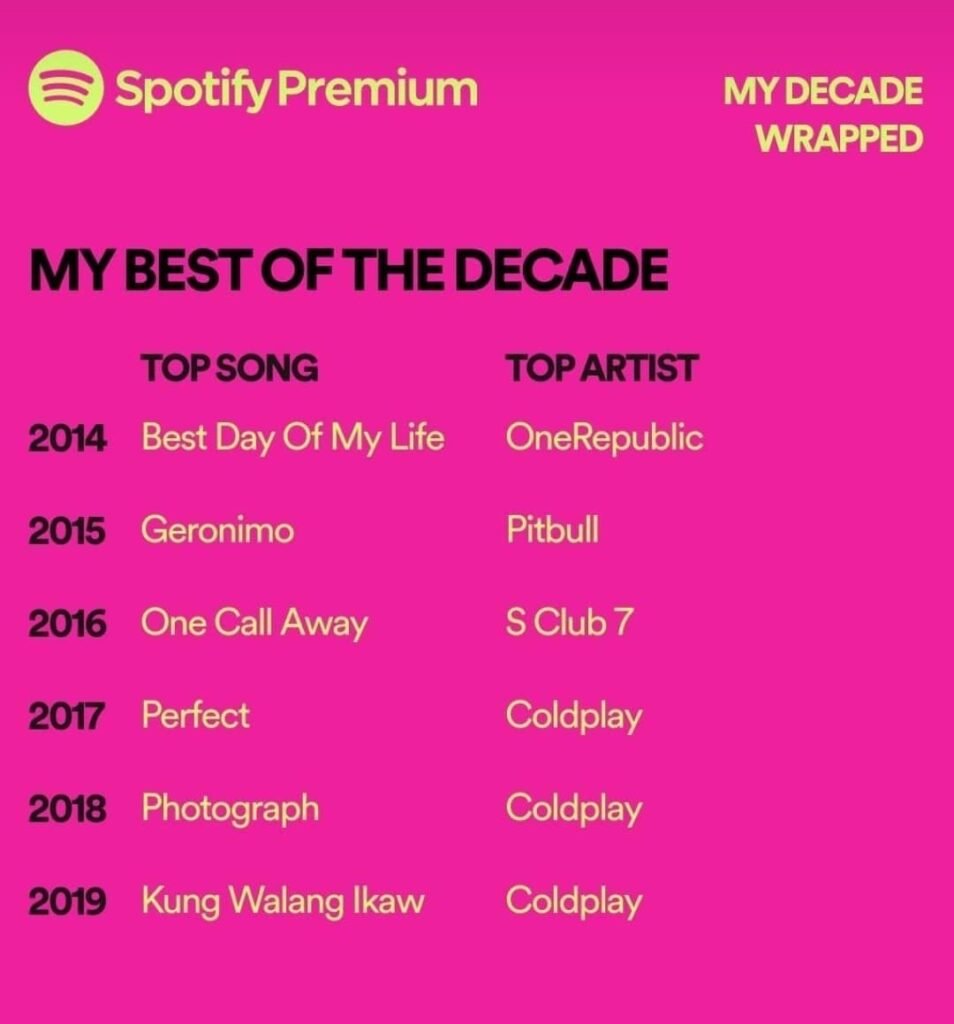 Spotify has this "Wrapped" feature that summarizes your listening activity all throughout the year. Although the feature is available for both Free and Premium, only Premium users get additional personalized data including the number of artists they discovered that year as well as their top new artists from that year. Small but really cool.
6. Retain your Spotify anywhere
This may be something anyone would miss but can be important to those who frequently travel. You can use a free Spotify account in a different country or region for up to 14 days only. After that, you need to get Premium or change your account settings.
7. Listen Altogether
A new feature by Spotify, and a really great one—The Group Session. Premium users may now share control of their listening sessions as well as tune in to the same playlist or podcast simultaneously with others in real-time. This means, no matter the distance—whether you are beside each other or at two different ends of the world—you and your squad can listen to the same content at the same time on your own devices, as well as control its playback. Now, this is a feat Premium can look down to free Spotify every time.
One may avail Spotify Premium through their site. Different plans are available for you to avail: Individual, Family, Duo, or Student, offers that range 65Php/month for a single user up to 194Php/months which can include up to 6 users in a single account.
It's pretty clear that you can do more on Premium than Free Spotify, but it is still a choice whether or not you're willing to pay for a subscription. If you can get a student, family, or duo membership, Spotify Premium isn't really that pricey, but if you're still on the verge of things, Spotify has free month-long trials of Premium for you to try nevertheless. Happy listening!